Win a FREE Dishonored Corvo Mask for your XBOX Avatar
We have been given 5 Dishonored Corvo Mask Codes by MatureVideoGamer.co.uk to give out to the XAG Fans. Very simple, all you have to do is LIKE and SHARE our Contest Picture on Facebook. We will choose 5 random people who do both on 10-27-12 just in time for Halloween maybe. Be sure to also follow MVG on Twitter @MVGWorld
Good Luck everyone!!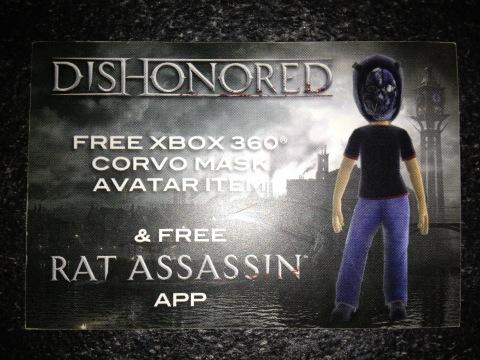 This entry was posted on October 23, 2012 at 11:52 PM and is filed under Avatar Related News with tags Avatar, Avatar Awards, Avatar Marketplace, Contest, Corvo, Dishonored, Exclusive, FREE, Hat, Helmet, Mask, Xbox, XBOX 360, XBOX Avatar, XBOX360. You can follow any responses to this entry through the RSS 2.0 feed. You can leave a response, or trackback from your own site.